Old web page.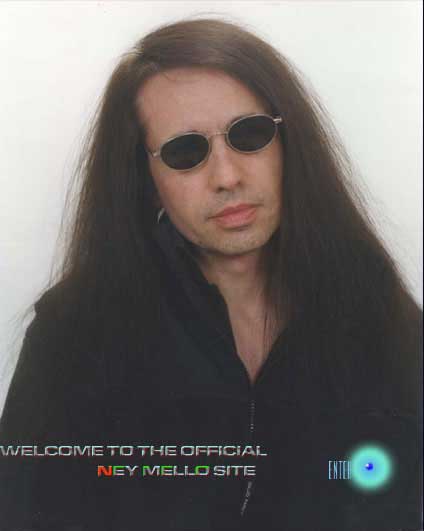 Solo concert poster.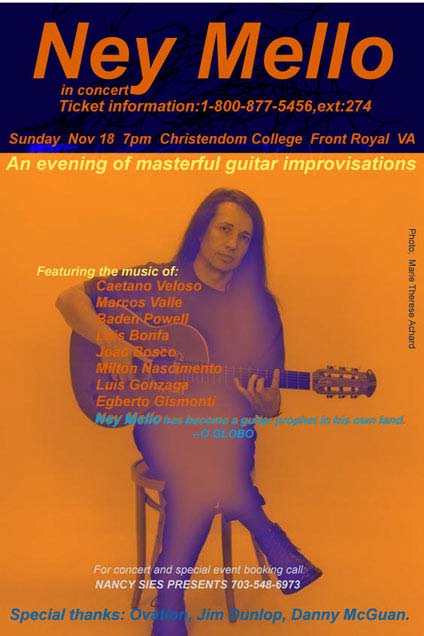 Santucci.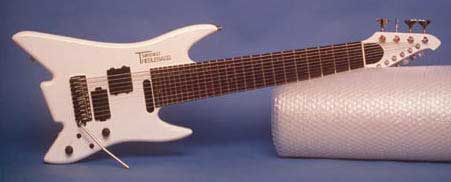 Ney / Red Blues.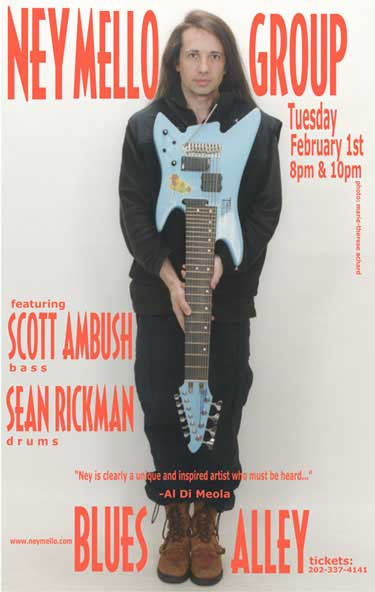 Ney... black and white.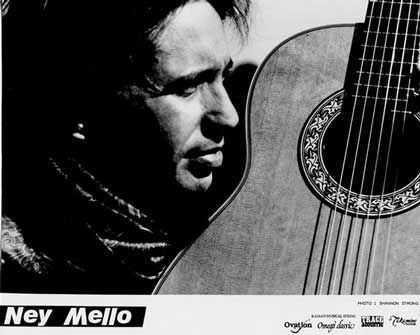 Ney laid back.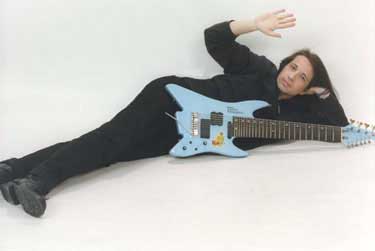 Ney closeup.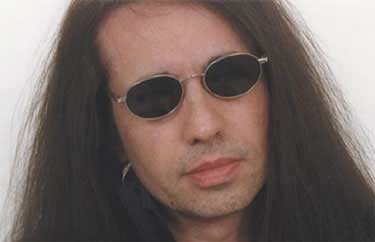 Ney at Chop Thank Studios for website music sessions.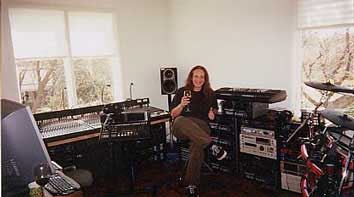 Ney at Al's studio.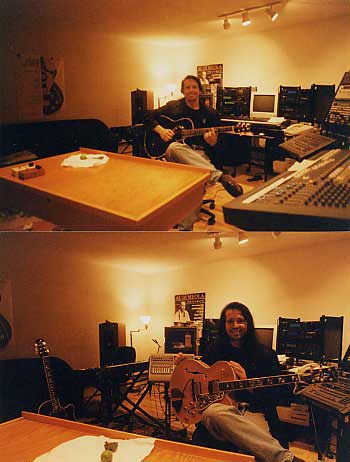 Ney, Victor Williams, Michael Fath.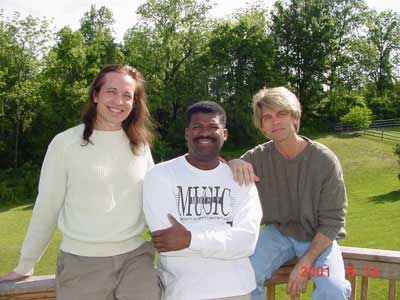 Ney, TV host Larz and Sheik Ndoye after interview taping.
International TV film actor ASHK ADAMIYATT during a recent media event,
Ashk has been a friend for many years. His most recent movie was 'SILENT WARRIORS"
for THE DISCOVERY CHANNEL, a CIA thriller based on real life events.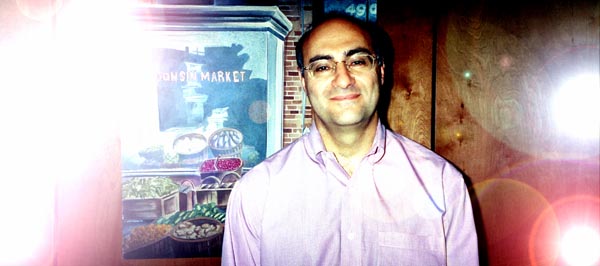 Ney with the Santucci 10-string guitar-bass created by Sergio Santucci, New York.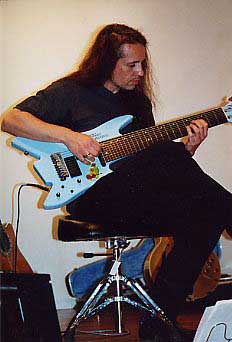 Ney — too fast and too furious in LA.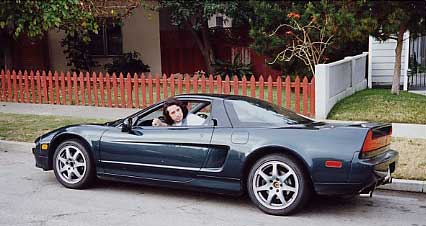 Ney plays his famed 1975 32-fret Ovation custom legend
steel string at Shriver Hall in Baltimore, MD.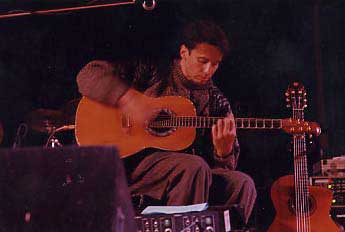 Ney plays a Takamine nylon string classic
at Shriver Hall in Baltimore, MD.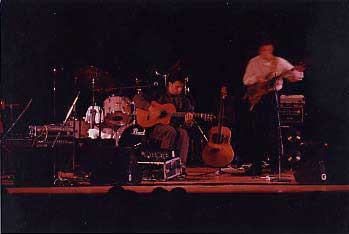 Ney on top of Kaman Music pavillion, NAMM show.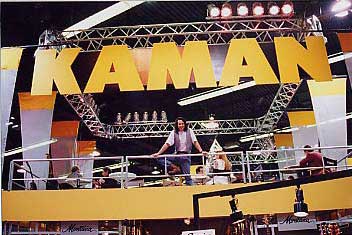 Ney Mello, 1976.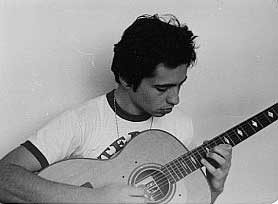 Ney Mello, Scott Ambush, Sean Rickman.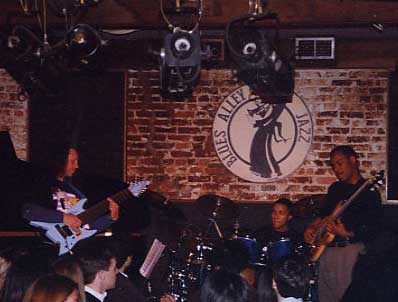 Ney Mello, Scott Ambush — spiritual intensity at maximum speed!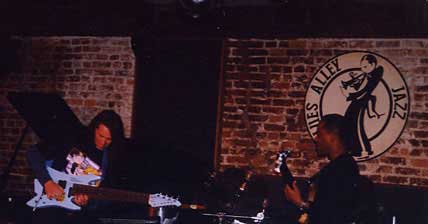 Ney Mello's first electric.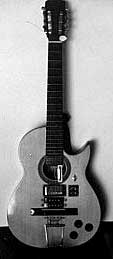 Ney in the Nevada Desert.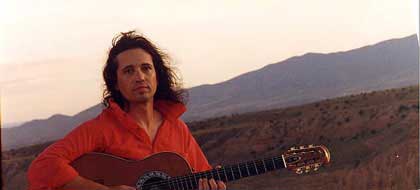 Ney in secret recording sessions for a revolutionary new product.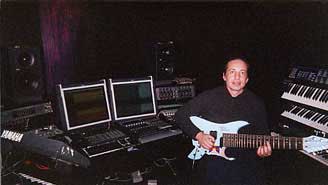 Ney at Shriver Hall in Baltimore, MD.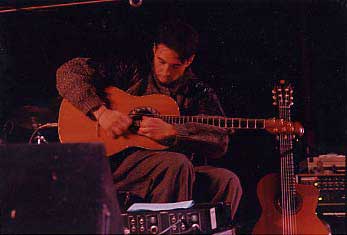 Ney and remixer, artist and producer Jer Olsen.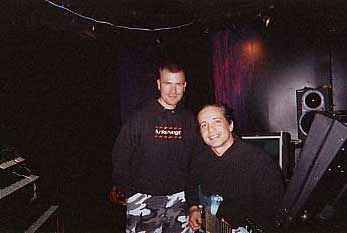 Ney and Michael Fath duo concert at the Brazilian-American-Cultural-Institute in Washington, DC.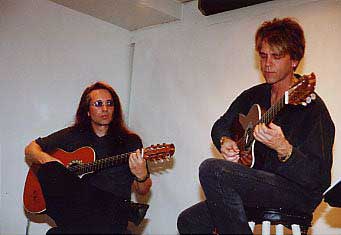 Ney and two-handed tap virtuoso Danny Heines in LA.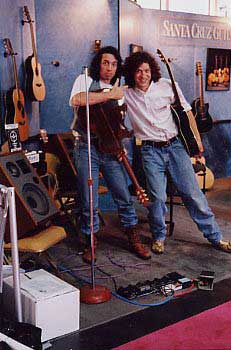 Ney and actress/singer (and guitarist!) Monica Kowl.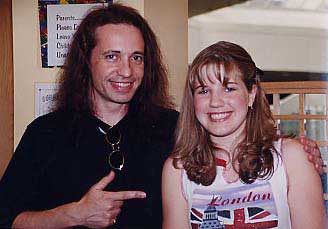 Ney and Pandit Broto Roy at September 11th memorial concert.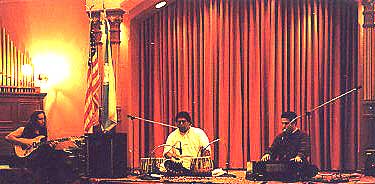 Ney and Adrian Legg playing the NAMM show Ovation showcase.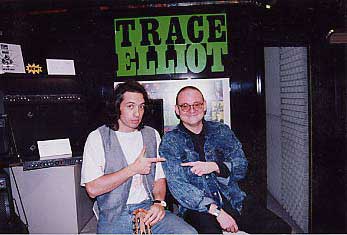 DVD concert poster.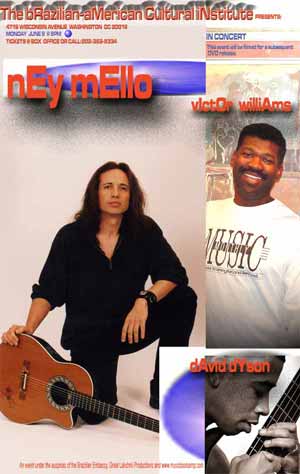 Concert poster.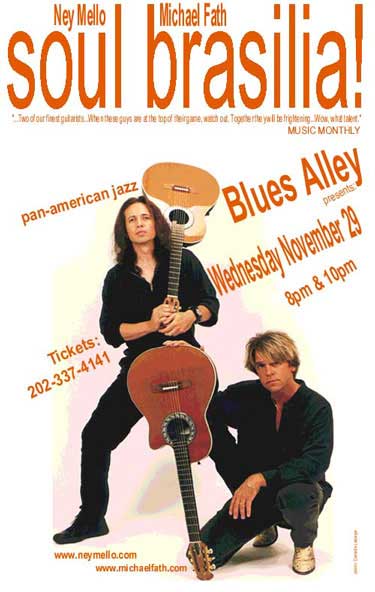 Concert for Embraer.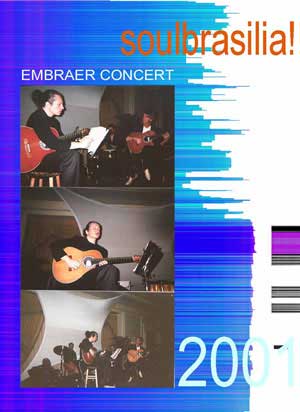 Educational DVD closed studio set.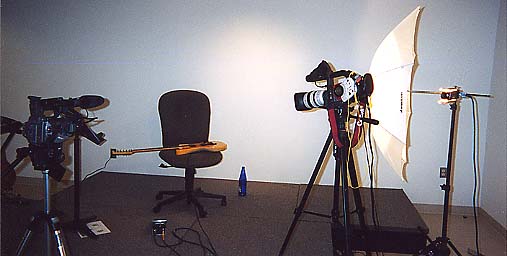 DVD Producers: Jer Olsen & Laura Jones
from MusicBootCamp.com.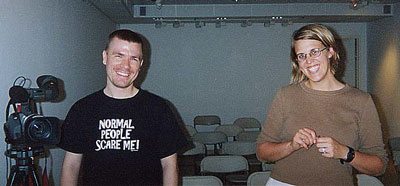 Doug from Cyberella Studios, Baltimore, MD,
made the trip to record the live concert DVD
direct to hard drive. Doug is very in demand
and is a top-level mastering engineer.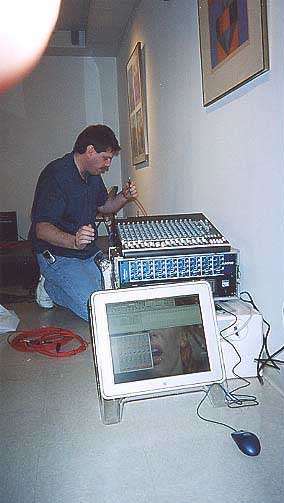 Our roadie, Kevin Starke, also owns his own home renovation business.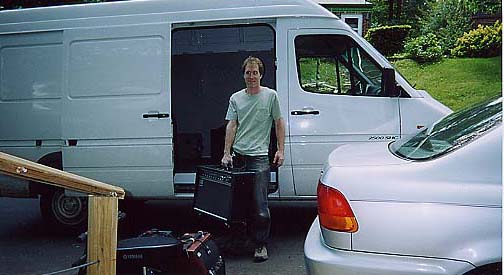 Roland JC90 customized closed back and Trace 100A amplifiers
used for the educational DVD.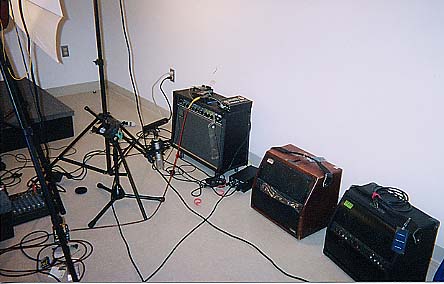 Shooting educational DVD at B.A.C.I. studio in D.C.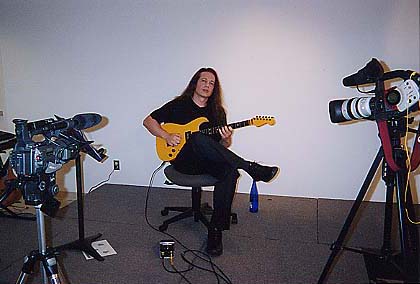 Signal chain for live DVD concert.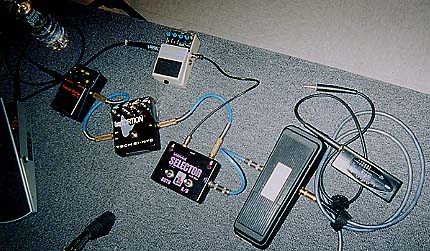 Victor Williams arriving at the gig.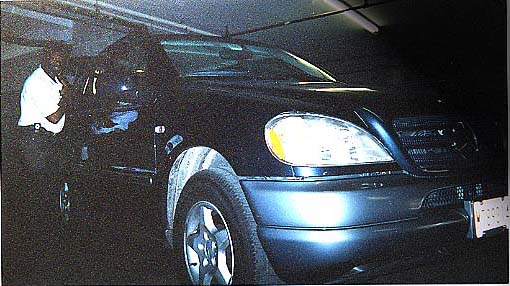 Ney, Ben (middle) and Professor JAMES CROWSON of Montgomery College,
founding member of BAD PENNY and creator of the sensational fingering system
" the scrolling marquee" . Jim, who is very unassuming about his genius,
is currently working on the actual book after Ney bugged him about it for a few months.
This was taken by our friend Polina Yershova from the Ukraine during our Thursday's
Italian dinner ritual... Does it seem that Ney has a thing for sitting sideways at the table??
....and...look at the size of those wine glasses...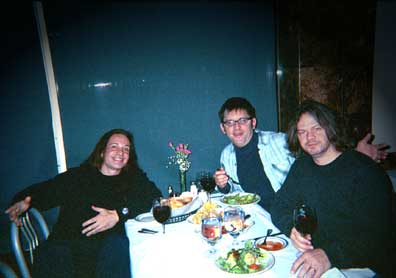 Beauty industry mover and shaker and guitar fan
Polina Yershova poses with Ney in D.C.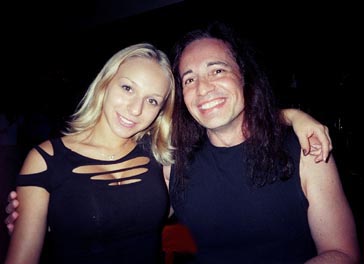 One of Ney's numerous headlining concerts at the famed BLUES ALLEY jazz club.
The signature 32-fret steel-string Ovation custom legend. There is only one in existence.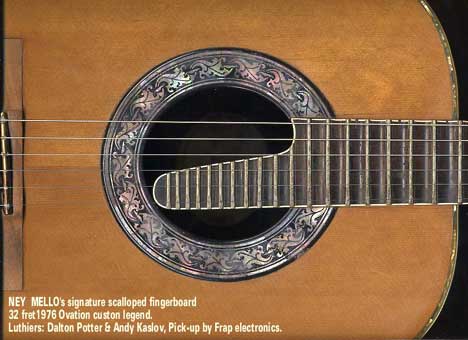 An advertisement for the SANTUCCI 10-string guitar-bass.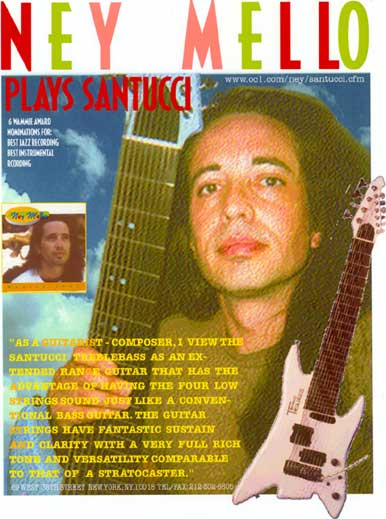 A large poster for the SANTUCCI publicity campaign.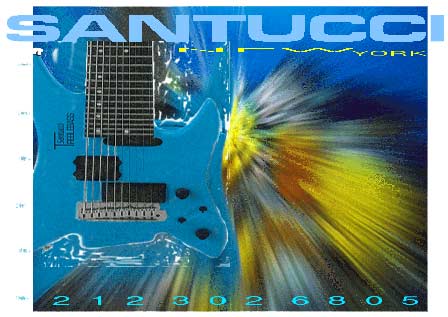 Large publicity poster for duo concert with MICHAEL FATH.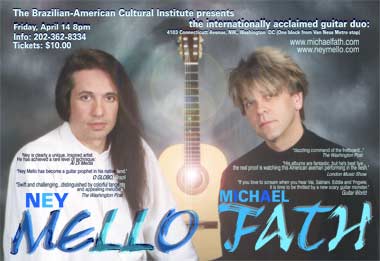 Press shot for SOULBRASILIA! featuring NEY MELLO nad MICHAEL FATH,
right before VICTOR WILLIAMS joined the group on percussion.
Promotional Poster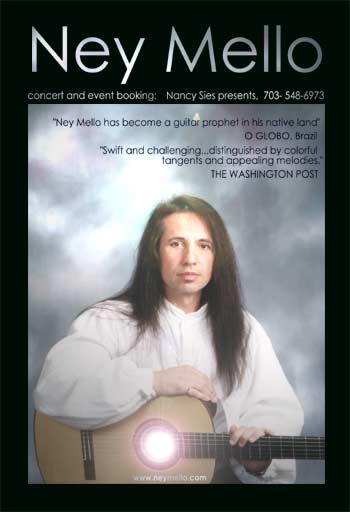 Genius at work: Professor JAMES CROWSON of Montgomery College
(otherwise known as "bad-boy Jim") personally explains the amazing
'scrolling marquee" revolutionary fingering system to Icelandic
guitarist and Teacher JON OMAR ARNASON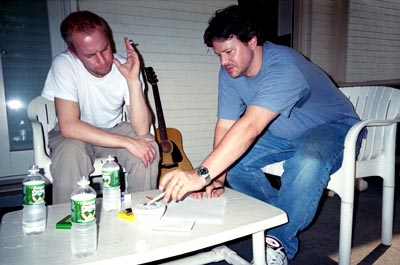 JONSI, NEY MELLO, LARRY, JIM, during lunch.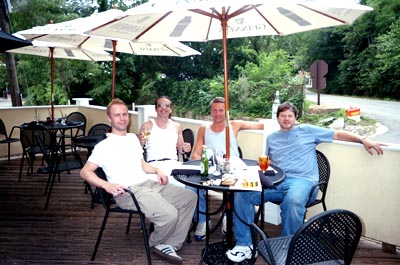 Ney Mello in the studio with Jim and Larry. Jim was born with his hands glued
to this guitar's fretboard. The medical community was thoroughly amazed.
It was deemed wise not to surgically separate them...

NEY MELLO demonstrates, during a consultation, how Shawn Lane used to
play his mesmerizing wide interval hyper-speed passages which
necessitates that the guitar be held vertically for the stretch.